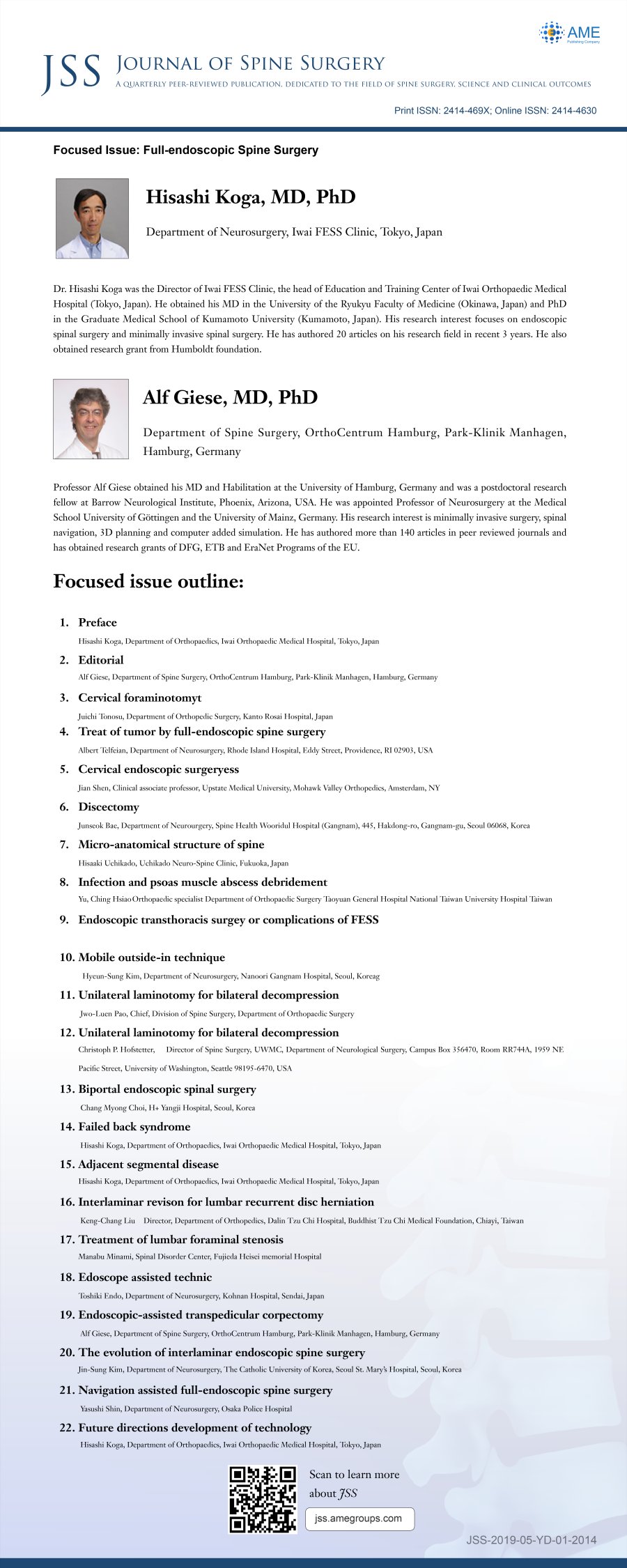 This focused issue on "Full-endoscopic Spine Surgery" is edited by Dr. Hisashi Koga, from Department of Orthopaedics, Iwai Orthopaedic Medical Hospital, Tokyo, Japan; and Dr. Alf Giese, fromDepartment of Spine Surgery, OrthoCentrum Hamburg, Park-Klinik Manhagen, Hamburg, Germany.
Dr. Hisashi Koga was the Director of Iwai FESS Clinic, the head of Education and Training Center of Iwai Orthopaedic Medical Hospital (Tokyo, Japan). He obtained his MD in the University of the Ryukyu Faculty of Medicine (Okinawa, Japan) and PhD in the Graduate Medical School of Kumamoto University (Kumamoto, Japan). His research interest focuses on endoscopic spinal surgery and minimally invasive spinal surgery. He has authored 20 articles on his research field in recent 3 years. He also obtained research grant from Humboldt foundation.
Dr. Alf Giese obtained his MD and Habilitation at the University of Hamburg, Germany and was a postdoctoral research fellow at Barrow Neurological Institute, Phoenix, Arizona, USA. He was appointed Professor of Neurosurgery at the Medical School University of Göttingen and the University of Mainz, Germany. His research interest is minimally invasive surgery, spinal navigation, 3D planning and computer added simulation. He has authored more than 140 articles in peer reviewed journals and has obtained research grants of DFG, ETB and EraNet Programs of the EU.
Focused issue outline:
Preface
Hisashi Koga, Department of Neurosurgery, Iwai FESS Clinic, Tokyo, Japan
Editorial
Alf Giese, Department of Spine Surgery, OrthoCentrum Hamburg, Park-Klinik Manhagen, Hamburg, Germany
Cervical foraminotomy
Juichi Tonosu, Department of Orthopedic Surgery, Kanto Rosai Hospital, Japan
Treat of tumor by full-endoscopic spine surgery
Albert Telfeian, Department of Neurosurgery, Rhode Island Hospital, Eddy Street, Providence, RI, USA
Cervical endoscopic surgeryess
Jian Shen, Clinical associate professor, Upstate Medical University, Mohawk Valley Orthopedics, Amsterdam, NY, USA
Discectomy
Junseok Bae, Department of Neurourgery, Spine Health Wooridul Hospital (Gangnam), Seoul, Korea
Micro-anatomical structure of spine
Hisaaki Uchikado, Uchikado Neuro-Spine Clinic, Fukuoka, Japan
Infection and psoas muscle abscess debridement
Ching Hsiao Yu, Orthopaedic specialist Department of Orthopaedic Surgery Taoyuan General Hospital National Taiwan University Hospital Taiwan
Endoscopic transthoracis surgey or complications of FESS
Mobile outside-in technique
Hyeun-Sung Kim, Department of Neurosurgery, Nanoori Gangnam Hospital, Seoul, Korea
Unilateral laminotomy for bilateral decompression
Jwo-Luen Pao, Division of Spine Surgery, Department of Orthopaedic Surgery, Far Eastern Memorial Hospital, New Taipei City, Taiwan
Unilateral laminotomy for bilateral decompression
Christoph P. Hofstetter, Director of Spine Surgery, UWMC, Department of Neurological Surgery, University of Washington, Seattle, USA
Biportal endoscopic spinal surgery
Chang Myong Choi, H+ Yangji Hospital, Seoul, Korea
Failed back syndrome
Hisashi Koga, Department of Neurosurgery, Iwai FESS Clinic, Tokyo, Japan
Adjacent segmental disease
Hisashi Koga, Department of Neurosurgery, Iwai FESS Clinic, Tokyo, Japan
Interlaminar revison for lumbar recurrent disc herniation
Keng-Chang Liu Director, Department of Orthopedics, Dalin Tzu Chi Hospital, Buddhist Tzu Chi Medical Foundation, Chiayi, Taiwan
Treatment of lumbar foraminal stenosis
Manabu Minami, Spinal Disorder Center, Fujieda Heisei Memorial Hospital, Fujieda, Shizuoka, Japan
Edoscope assisted technic
Toshiki Endo, Department of Neurosurgery, Kohnan Hospital, Sendai, Japan
Endoscopic-assisted transpedicular corpectomy
Alf Giese, Department of Spine Surgery, OrthoCentrum Hamburg, Park-Klinik Manhagen, Hamburg, Germany
The evolution of interlaminar endoscopic spine surgery
Jin-Sung Kim, Department of Neurosurgery, The Catholic University of Korea, Seoul St. Mary's Hospital, Seoul, Korea
Navigation assisted full-endoscopic spine surgery
Yasushi Shin, Department of Neurosurgery, Osaka Police Hospital, Osaka, Japan
Future directions-development of technology
Hisashi Koga, Department of Neurosurgery, Iwai FESS Clinic, Tokyo, Japan