In 2022, JSS reviewers continue to make outstanding contributions to the peer review process. They demonstrated professional effort and enthusiasm in their reviews and provided comments that genuinely help the authors to enhance their work.
Hereby, we would like to highlight some of our outstanding reviewers, with a brief interview of their thoughts and insights as a reviewer. Allow us to express our heartfelt gratitude for their tremendous effort and valuable contributions to the scientific process.
February, 2022
M. Burhan Janjua, Washington University, USA

February, 2022
M. Burhan Janjua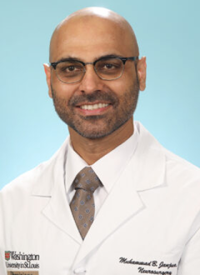 Dr. M. Burhan Janjua, MD FICS, is the Assistant Professor of Neurosurgery, Washington University School of Medicine, USA. His research focus is on brain and spinal tumors, neurovascular pathologies, neurotrauma, craniocervical anomalies, and spinal pathologies, spinal deformity, and clinical outcome registry-based studies. His recent projects entail research on adult spinal deformity, cerebellar AVMs, and carotid endarterectomy. You may follow Dr. Janjua on Instagram here.
Peer review is a critical aspect of scientific research. With new surgical approaches on horizon, evidence-based medicine, and latest research, Dr. Janjua believes that we are bound to perform a thorough peer review to enhance the validity of the treatment. Nonetheless, it is vital to grow as a surgeon scientist in the midst of latest innovations to help improve patient care.
However, during the review process, Dr. Janjua reiterates one thing that reviewers should always bear in mind – A review must be free of any bias. Objectively assessing the data presented and being critical to the presented research is the key to reviewing.
"Through peer reviewing, I learn from other's contributions. It also helps guide others and enhance my scientific teaching. It is quite of a nourishment to a surgeon scientist soul," says Dr. Janjua.