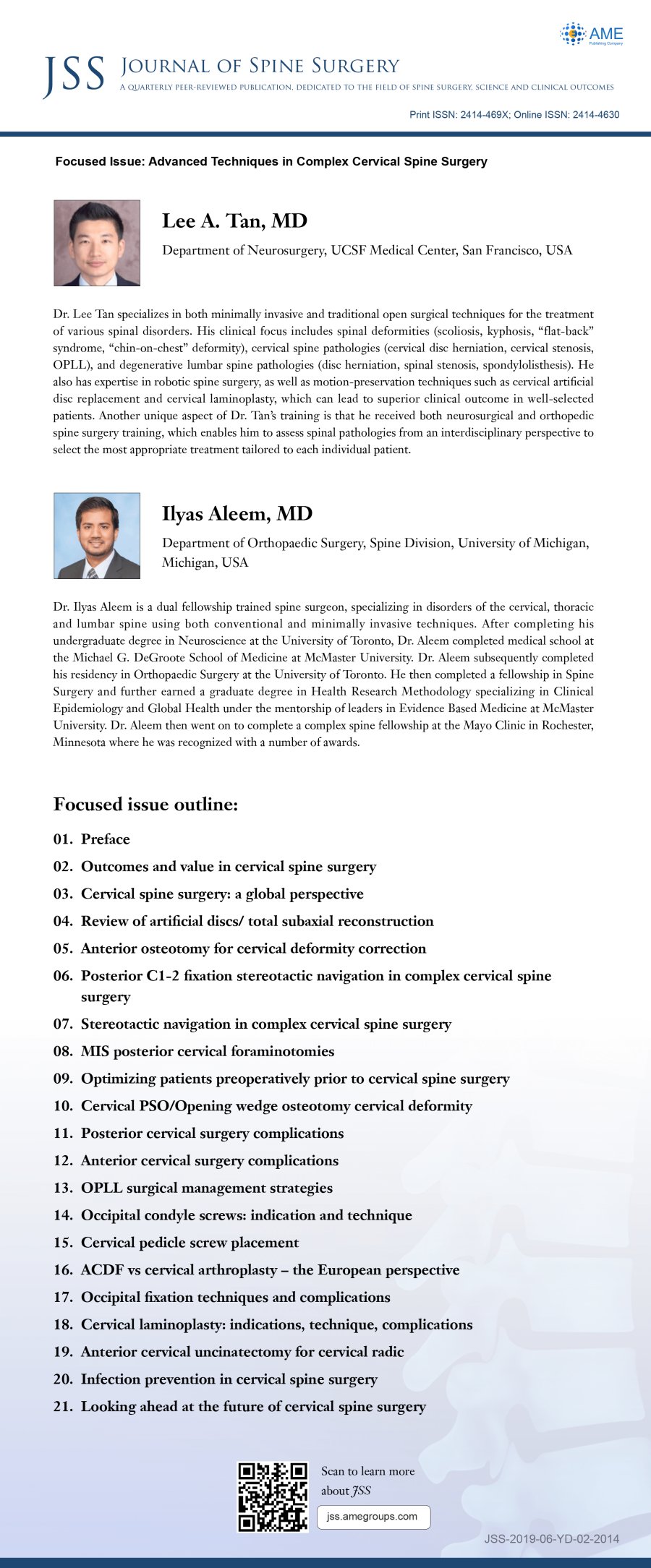 This focused issue on "Advanced Techniques in Complex Cervical Spine Surgery" is edited by Dr. Lee A. Tan, from Department of Neurosurgery, UCSF Medical Center, San Francisco, USA; and Dr. Ilyas Aleem, from Department of Orthopaedic Surgery, Spine Division, University of Michigan, Michigan, USA.
Dr. Lee Tan specializes in both minimally invasive and traditional open surgical techniques for the treatment of various spinal disorders. His clinical focus includes spinal deformities (scoliosis, kyphosis, "flat-back" syndrome, "chin-on-chest" deformity), cervical spine pathologies (cervical disc herniation, cervical stenosis, OPLL), and degenerative lumbar spine pathologies (disc herniation, spinal stenosis, spondylolisthesis). He also has expertise in robotic spine surgery, as well as motion-preservation techniques such as cervical artificial disc replacement and cervical laminoplasty, which can lead to superior clinical outcome in well-selected patients. Another unique aspect of Dr. Tan's training is that he received both neurosurgical and orthopedic spine surgery training, which enables him to assess spinal pathologies from an interdisciplinary perspective to select the most appropriate treatment tailored to each individual patient.
Dr. Ilyas Aleem is a dual fellowship trained spine surgeon, specializing in disorders of the cervical, thoracic and lumbar spine using both conventional and minimally invasive techniques. After completing his undergraduate degree in Neuroscience at the University of Toronto, Dr. Aleem completed medical school at the Michael G. DeGroote School of Medicine at McMaster University. Dr. Aleem subsequently completed his residency in Orthopaedic Surgery at the University of Toronto. He then completed a fellowship in Spine Surgery and further earned a graduate degree in Health Research Methodology specializing in Clinical Epidemiology and Global Health under the mentorship of leaders in Evidence Based Medicine at McMaster University. Dr. Aleem then went on to complete a complex spine fellowship at the Mayo Clinic in Rochester, Minnesota where he was recognized with a number of awards.
Focused issue outline:
Preface
Outcomes and value in cervical spine surgery
Cervical spine surgery: a global perspective
Review of artificial discs/ total subaxial reconstruction
Anterior osteotomy for cervical deformity correction
Posterior C1-2 fixation stereotactic navigation in complex cervical spine surgery
Stereotactic navigation in complex cervical spine surgery
MIS posterior cervical foraminotomies
Optimizing patients preoperatively prior to cervical spine surgery
Cervical PSO/Opening wedge osteotomy cervical deformity
Posterior cervical surgery complications
Anterior cervical surgery complications
OPLL surgical management strategies
Occipital condyle screws: indication and technique
Cervical pedicle screw placement
ACDF vs cervical arthroplasty – the European perspective
Occipital fixation techniques and complications
Cervical laminoplasty: indications, technique, complications
Anterior cervical uncinatectomy for cervical radic
Infection prevention in cervical spine surgery
Looking ahead at the future of cervical spine surgery